About Us
Brian's Fish Bar in Shelley offers meal deals for parties of two up to a family size deal. Try a variety of hake, chips, squid and prawns for a low price. The seafood basket is particularly popular at Brian'S Fish Bar, which has hake, chips, squid rings, dim sum, prawns, and crab with a tartare sauce. The eatery serves hake from New Zealand as well as fresh, locally sourced river cobbler, red emperor, snapper, whiting, and shark. Add sides such as pickled onion, chicken nuggets, hash browns, potato scallop, and vegetable nuggets.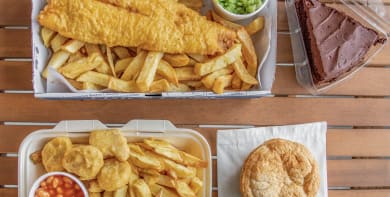 Reviews
KIM
"GREAT FOOD ,GREAT SERVICE FROM A SUPER GREAT RESTAURANT"
20/02/2021
Contact Us
Find Us
118b Barbican Street East, Shelley, 6148
Opening Hours
Tuesday
4:30 PM - 8:00 PM
Wednesday
4:30 PM - 8:00 PM
Thursday
11:30 AM - 8:00 PM
Friday
11:30 AM - 8:00 PM
Saturday
11:30 AM - 8:00 PM
Sunday
11:30 AM - 8:00 PM
Please note, delivery times may vary.
We deliver to
6100 Lathlain, 6100 Victoria Park, 6101 Carlisle, 6101 East Victoria Park, 6102 Bentley, 6102 St James, 6103 Rivervale, 6104 Redcliffe, 6105 Cloverdale, 6105 Kewdale, 6105 Perth Airport, 6106 Welshpool, 6107 Beckenham, 6107 Cannington, 6107 East Cannington, 6107 Kenwick, 6107 Queens Park, 6107 Wilson, 6108 Thornlie, 6147 Langford, 6147 Lynwood, 6147 Parkwood, 6148 Ferndale, 6148 Riverton, 6148 Rossmoyne, 6148 Shelley, 6149 Bull Creek, 6149 Leeming, 6150 Bateman, 6150 Murdoch, 6150 Winthrop, 6151 Kensington, 6151 South Perth, 6152 Como, 6152 Karawara, 6152 Manning, 6152 Salter Point, 6152 Waterford, 6153 Applecross, 6153 Ardross, 6153 Brentwood, 6153 Mount Pleasant, 6154 Booragoon, 6154 Myaree, 6155 Canning Vale, 6155 Willetton, 6156 Melville, 6156 Willagee, 6163 Bibra Lake, 6163 Kardinya, 6163 North Lake, 6164 Jandakot, 6164 South Lake